The wine label is based on an 1895 poster that promoted Cycles Gladiator, a Paris bicycle company that flourished during the Belle Epoque golden age of cycling. The posters, designed by printer G. Massias, were inspired by the momentum of the women's suffrage movement, which embraced bicycles as vehicles of emancipation and self-reliance, the Cycles Gladiator wine website says. "I stand and rejoice every time I see a woman ride by on a wheel … the picture of free, untrammeled womanhood," Susan B. Anthony said.
And winemaker, and true rockstar, Adam LaZarre want to make his wines approachable and affordable. The eye catching, red-haired, siren on the lable floating freely and naked, off the bike, don't hurt. He aims to use 20 years of Central Coast vineyard experience to produce authentic wines connected to the land. Cycles Gladiator isn't a 'pinkies up" kind wine. It is for every day sipping with pizzas, burgers and the porch. Excellent pricing across the board. Chardonnay, Cabernet Sauvignon, Pinot Noir, Petite Sirah
and Merlot. Average retail price is $15.
Their flagship varietal, Pinot Noir, is also availble in 1/2 bottle of wine size, cans! Awesome juice and great, packaging.
Same juice, same great flavor and portable to golf course to beach.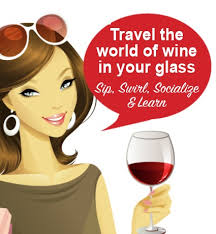 Patti Neumann is Founder of Sip & Swirl Society, Constantine Wines Sales & Publisher of CITYPEEK.com, an award-winning blog. Email ceo@citypeek.com [1]
Connect with CITYPEEK we Peek into the World of Food & Wine, Beer & Craft Spirits:
[2]Facebook: Click [3]
[4]Twitter: Click [5]
[6]Instagram: Click [6]
LinkedIn [7]